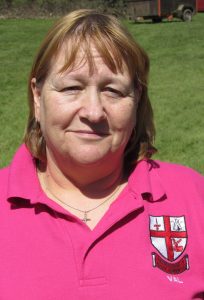 Hi. My name is Valerie Jackson and I am the Chairman for Herts and North London. We celebrated our 76th birthday as a DA this year. We have a full committee and are also lucky enough to have fellow campers who are always willing to help out. We have a full sites listing for this year, you can download our Sites list from the website. We are a friendly DA and welcome everyone so it will be good to see you out with us. If you feel you wish to get away and to meet new friends please come and join us, we look forward to meeting you soon.
Val Jackson, Chairperson of, Herts and North London DA.
---
The chairman's charity this year is Letchworth Hospice.
They do so much for people who have only a few days left and their families. It is very special to me and to other families.
---
Latest Announcements
Joe Sutcliffe
It is with deep regret that we have to inform you of the passing away of Joe Sutcliffe on Thursday 18th October at the age of 86 years. Joe was an active member of this DA for approximately 7 years and even though he moved down to Dorset he still travelled to see us as much as he could. Joe will be missed by all his friends in the DA and our thoughts are with his family at this sad time.
 PLEASE NOTE
Halloween Meet Hertford Club Site. 26th to 31st October.
We have just been notified that Mangrove Road will be closed from 20th October to 2nd November and access to the site is from Lord Street Hoddesdon,
This is a winding lane and approach should be at low speeds

As I type this I am in contact with HCC with the view of us getting access for our rally

More details will be added to the site when available.
Bookings for the DA Christmas Dinner must  be given to Liz Collins (07939104171)~very shortly along with your menu choices. 
Closing date is Saturday 27th October 2018
Next Meets
26th October to 31st October (5 Nights) Our Haloween meet will this year be at  Hertford Club Site, with the obvious theme of Halloween. This meet is replacing our Feast of Lanterns so it is an excuse to decorate your unit,  There will be Pumpkin Carving and several other associated activities organised, Also there will be an American Supper that will be based around the theme of a Curry Night please bring along a Curry and Rice or an alternative if you do not eat Curry.
PLEASE NOTE: There must not be any naked lights used during the display on the site or in the Pumpkins,
Price £8.00 pupn
Limited electrics available on first come first served on arrival basis except for medical reasons
Please see flyer below for details
Satuday 1st December Card Swap
St Nicholas School, Six Hills Way, Stevenage Herts SG2 0PZ. Mulled wine, chilli and lasagne, contact Darryl Mileson 07545259630 or e mail oddfoody@gmail.com , By 11 th November, for catering purposes. Doors open at 5.00pm cost £ 3.00 adult £1.00 child. Please bring wrapped present to value of £3.00 each to take part in secret santa. Please also let darryl know how many children and their Age Name and Sex you are bringing for our surprise guest.
See flyer below for details
Card Swap 2018http://79.170.40.178/hertsandnorthlondonda.co.uk/wp-content/uploads/2018/09/Card-Swap-2018.pdf
LATEST
Unfortunately Beds DA have CANCELLED their meet at Cardington on 26 -28th October If you are looking for an alternative meet please consider our Halloween Meet