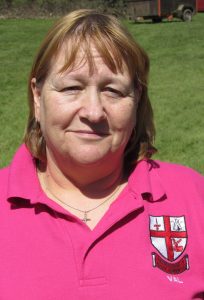 Hi. My name is Valerie Jackson and I am the Chairman for Herts and North London. We celebrated our 76th birthday as a DA this year. We have a full committee and are also lucky enough to have fellow campers who are always willing to help out. We have a full sites listing for this year, you can download our Sites list from the website. We are a friendly DA and welcome everyone so it will be good to see you out with us. If you feel you wish to get away and to meet new friends please come and join us, we look forward to meeting you soon.
Val Jackson, Chairperson of, Herts and North London DA.
---
The chairman's charity this year is Letchworth Hospice.
They do so much for people who have only a few days left and their families. It is very special to me and to other families.
It is with sincere regret I have to let you know that I have been advised of the passing of Morlais Jones a long standing member of this DA. 
Funeral arrangements are as follows
2 ,00 pm Friday 1st March 2019
Harwood Park Crematorium 
Watton Road 
Stevenage 
SG2 8XT

Followed by a Reception at
Banyers House Hotel
16 Melbourn Street
Royston
SG8 7BZ
Next meet
Sunday February 24th Sunday Dinner
The Bucks Head Little Wymondley, SG4 7HY.
Arrive by 12:30pm.
Please PREBOOK with Darryl Mileson by 27th JANUARY on 07545259630
March 15th to 17th
The Cock at Broom SG19 9NA
Invite from Beds DA for their St Patricks Weekend. Party on the Saturday evening with a typical Irish Meal at a cost of £6.00 per person. Booking Essential for meals.
To book call Albert on 07342283184
Cost £12.50 pupn. For further details check website http://bedsda.co.uk
MAY DAY MEET 2019
Please find attached the flyer for this years May Day Meet http://79.170.40.178/hertsandnorthlondonda.co.uk/wp-content/uploads/2019/02/Mayday-Flyer-Draft-1.pdf
Latest Announcements
We have a new THS this year. The site is at Apps Court Walton on Thames and will run from 29th July to 12th August 2019. Booking is required and unfortunately there are NO Electrics available. The site is on the side of the River Thames and is within easy reach of numerous tourist attractions.
Please note access to and egress from the site will be unavailable on 4th August until 16.00 hrs due to the road being closed for a cycle road race
Please see link below for further details. Cost £13.00 pupn
http://79.170.40.178/hertsandnorthlondonda.co.uk/home/apps-court-farm-1/
To book please call Tracey Camp on 07557914324, If you are thinking of coming at the last minute without booking please call Tracey to find out site availability prior to arriving
NFOL 19th to 23rd September. If anybody is wishing to join Region as part of the block booking please fill in attached form and return to Kathryn Ager
http://79.170.40.178/hertsandnorthlondonda.co.uk/wp-content/uploads/2019/01/NFOL-Form.pdf
Annual Dinner Dance Saturday 9th November 2019
Menu now available (Printable) at this address http://79.170.40.178/hertsandnorthlondonda.co.uk/wp-content/uploads/2019/02/DA-Dinner-2019.docx
Please pass your choice and hotel booking requirements to Liz Collins